US 2020 Election.
All News sources were from AFP, number 1 trusted news platform in charge of U.S 2020 Election, and Also TWITTER.
THESE ARE THE BREAKING NEWS HEADLINES FOR YOU TODAY.
1) Biden inches closer to U.S. Presidency.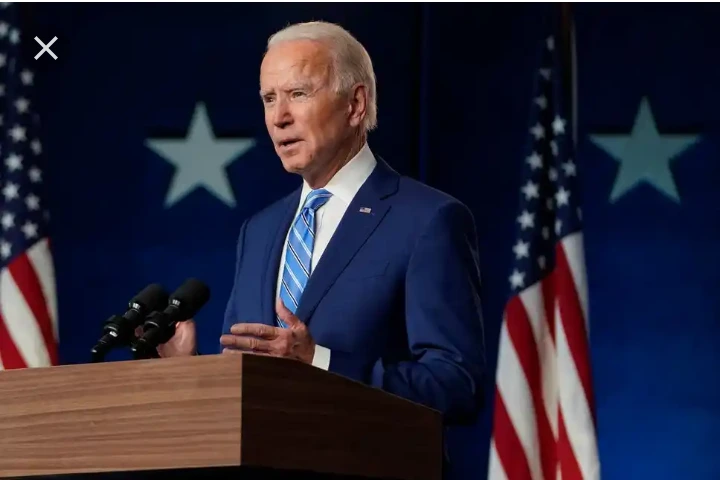 Joe Biden has taken a slim lead in Tuesday's Presidential election, claiming 237 electoral votes, as opposed to incumbent President Donald Trump's 213. Trump had, early morning of Tuesday, won the battleground state of Florida with a higher margin than he did in 2016. There are 29 electoral votes in Florida.
Trump also clinched the entire 38 electoral votes in Texas by defeating Biden in popular votes cast.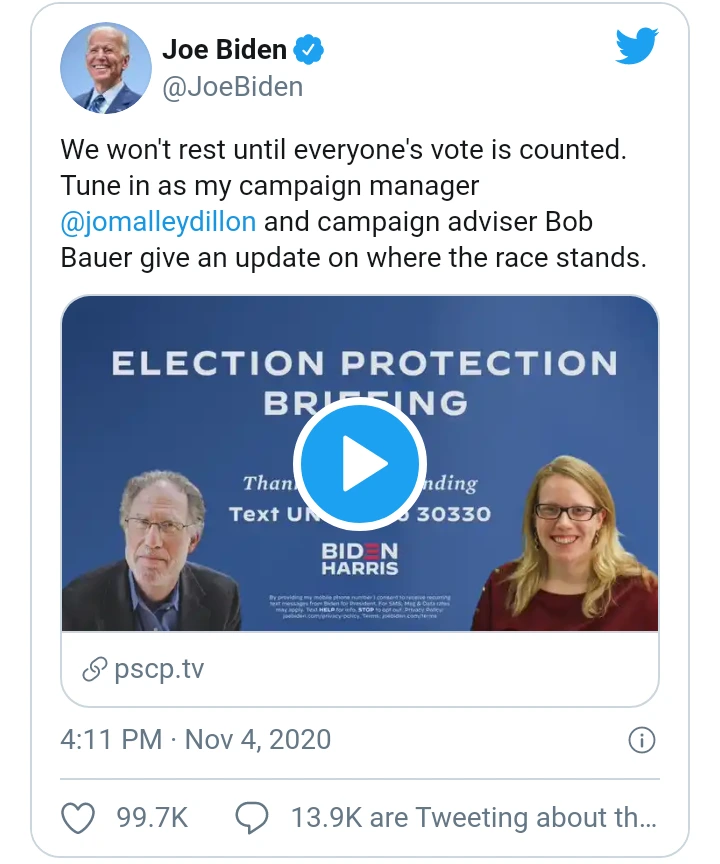 By winning the state of Texas, the Republicans shattered Biden's hope of being the first Democrat to win the state since 1974.
Until Tuesday, election polling has consistently put Texas up for grabs, with Democrats standing a good chance.
President Trump in the early hours of Wednesday (6 am) tweeted: We are all big, but they are trying to steal it. Votes cannot be cast after polls are closed."
"We're going to win the election.
But Biden in an address to a crowd in Delaware said, "We knew this was going to go long," and expressed hopes for victory. "We're going to win the election. We have to be patient," said Biden.
"Legally cast votes, being legally counted after the polls close on Election Day, as per state law, cannot be defined as "stealing" an election," a source close to Biden Campaign told The Guardian in response to Trump's controversial tweet.
"I believe the Biden campaign feels optimistic about its chances in Michigan and possibly in Wisconsin. Also, I think his (Biden's) comments were intended to settle the public and remind the incumbent that all the votes need to be counted prior to declaring a winner," the source said.
His hope in Wisconsin, Michigan and Pennsylvania, all battleground states for this year's election, lies in the highly populated and diverse urban areas, which still have low percentages of their votes counted.
Biden is leading with small margins in those states and will automatically clinch the Presidency once declared in his favour. Millions of mail ballots are yet to be counted in Pennsylvania and Michigan and large chunk of the votes are expected to count for Biden's Democratic Party.
Biden's electoral fortune started to manifest when Arizona fell for Democrats.
The nail-biter election is now coming down to Pennsylvania and Michigan, as Wisconsin also fell for Biden late last night.
Trump Wednesday threatened to approach the Supreme Court to stop vote counting in contentious areas, a statement that has drawn the ire of Democrats. Biden, in late statement, dared the president to challenge his victory in court.
The three states of Michigan, Pennsylvania and North Carolina will determine who wins the presidency, all already looking good for the Democrats.
2) US Election: Joe Biden Wins Michigan, Trump Files Lawsuits.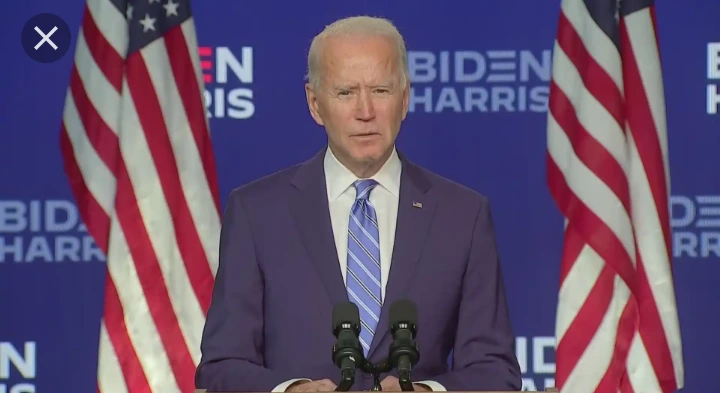 Michigan electoral officials continued to count the votes and called for patience on Wednesday as mainstream media gave Joe Biden the state and Donald Trump claimed victory.
By early evening, Joe Biden held onto a lead of more than 100,000 votes – or 1.9 percentage points – after 98 percent of the vote was counted.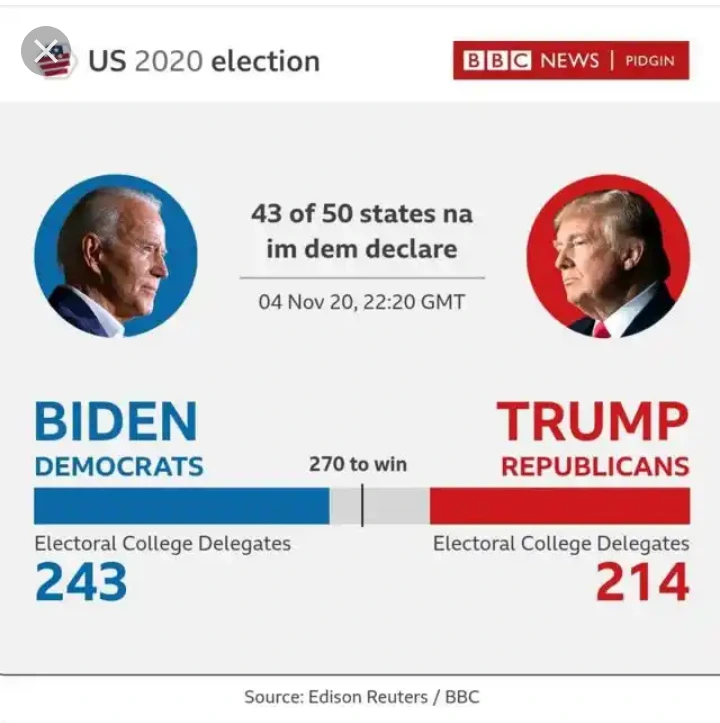 But Donald Trump's lawyers did not wait to take out the heavy artillery, complaining that they did not have adequate access to the rooms where the tally occurs. In court proceedings, the presidential campaign called on the state to "stop counting until better access is provided to us and recount ballots counted during the period when we did not have adequate access."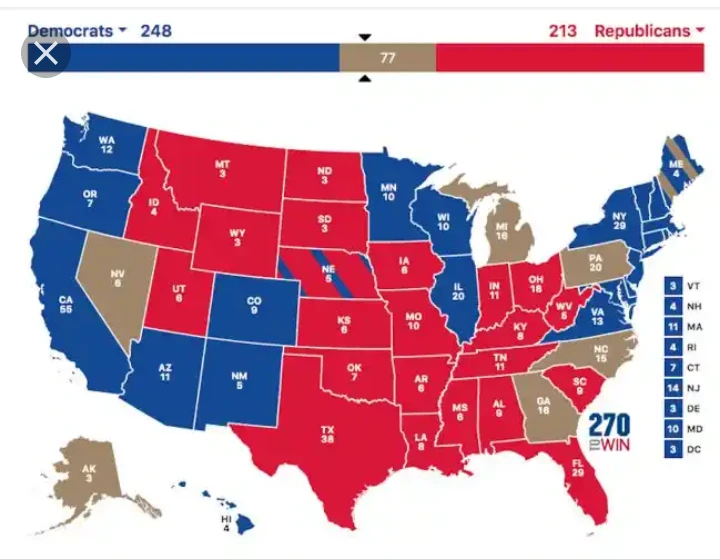 On Twitter, the US president questioned the validity of the count in Michigan, while the advance he held there Tuesday evening disappeared overnight.
"We will continue to count"
The count continued yesterday at the TCF Center, a convention centre in downtown Detroit. Outside, dozens of Republican activists demanded access to the facilities: they shouted "Let us in! "And" Stop counting! ". Windows had to be protected to prevent them from shattering into pieces.
"We will continue to count, we will continue to do our work, we will continue to publish our results," Jocelyn Benson, Michigan Secretary of State, said on CNN, before Donald Trump's campaign was over. announced his willingness to continue his administration. "We are very meticulous, we understand what is at stake. […] If we have to continue working tomorrow, we will."
According to Ms Benson, ballots that should be counted are mainly from postal voting in the cities of Detroit, Flint and Grand Rapids, a vote that should benefit the Democrats.
"Lots of filters in place"
"We understand that the process can be challenged, so we do everything according to the rules," continued Ms. Benson. "We make sure every ballot is valid. We have a lot of filters in place to make sure every vote is legal and that every voter has only voted once. "
The election campaign was particularly tense in Michigan, a largely deindustrialised state backing onto the Great Lakes. The dismantling of an armed militia that allegedly planned the kidnapping of the local Democratic governor troubled voters, as did the presence of armed men on the forecourt of the state capitol last spring.
Michigan is part of the "Blue Wall", those traditionally Democratic states that partially switched to the Republican side in 2016, providing victory to Donald Trump.
3) Just In: Trump may lose Georgia as Biden catches up.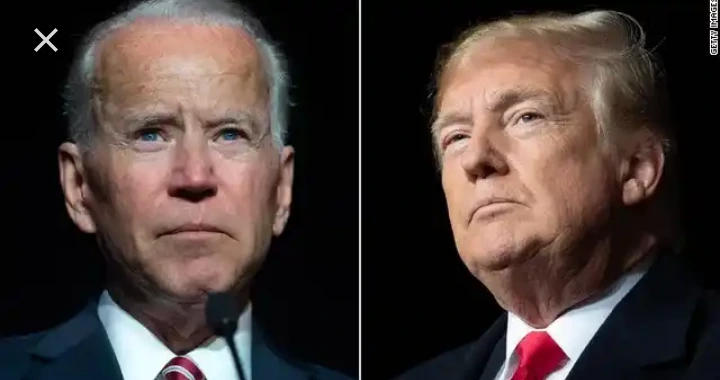 U.S. President Donald Trump's lead over Joe Biden in battleground state of Georgia has been reduced to fewer than 54, 405 votes, with counting still under way.
Donald Trump has 2,412,453 votes, compared with 2,358,048 for Biden, after 97 percent of the votes were counted.
In percentage terms, Trump has 49.95 to Biden's 48.83.
If Biden overtakes Trump here, it means he will not even need to wait for Pennsylvania to reach the threshold of 270 electoral college votes.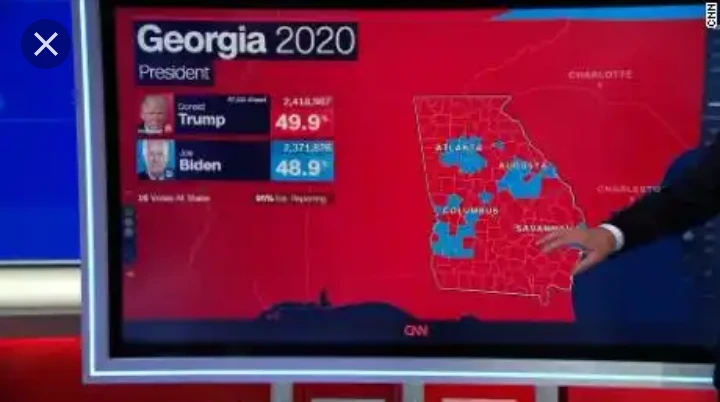 Georgia has 16 votes for grabs.
At the moment, Biden has 264 electoral votes to Trump's 214.
The mailed ballots being counted are reportedly from the heavily Democratic parts of the state, such as Fulton county, which includes Atlanta.
Georgia Secretary of State Brad Raffensperger said he was pushing counties to complete vote tallies by the end of Wednesday.
Roughly 200,000 ballots were being counted as of late morning.
4) Biden believes 'we will be the winners' of US election.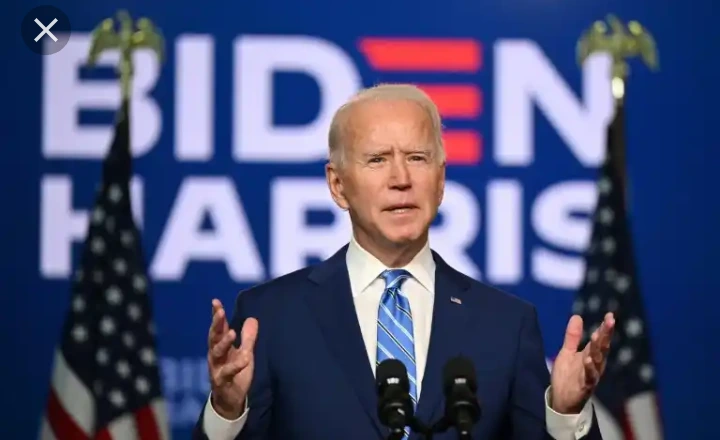 Democrat Joe Biden said Wednesday he was confident of winning the presidency once all votes are counted, saying he was leading Donald Trump in the remaining swing states that will determine the election's outcome.
With results from Tuesday's election showing Biden steadily nearing the threshold necessary to win the White House, Trump has mounted legal challenges in efforts to suspend the counting of ballots or force recounts in battlegrounds that will determine the next president.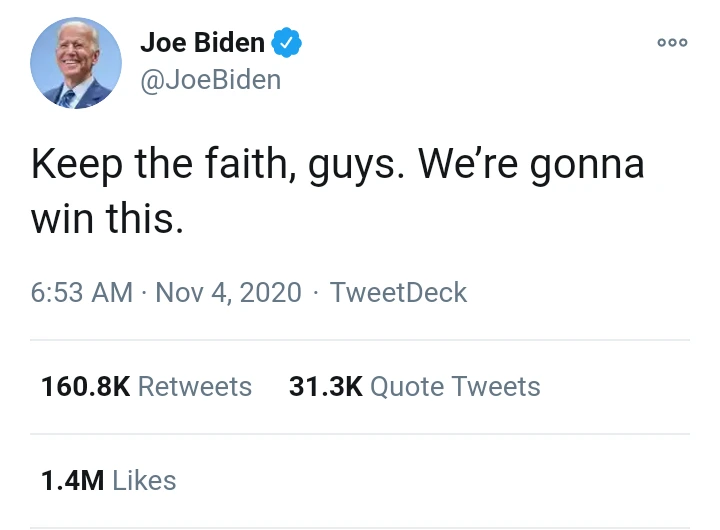 "After a long night of counting, it's clear that we're winning enough states to reach 270 electoral votes needed to win the presidency," Biden said in his hometown of Wilmington, Delaware.
"I'm not here to declare that we won. But I am here to report, when the count is finished, we believe we will be the winners," Biden added.
Even as US networks called Michigan — and its 16 electoral votes — for Biden Wednesday, the president's campaign announced a lawsuit to try and suspend the vote count in the fiercely contested battleground.
Biden, speaking in a measured and calm tone, pushed back, declaring that "every vote must be counted."
"We the people will not be silenced," he added, as his running mate Kamala Harris stood by his side.
The 77-year-old former vice president spoke about the three Great Lakes states that could be key to a Biden victory, noting he had won Wisconsin by 20,000 votes.
"In Michigan, we lead by over 35,000 votes and it's growing — a substantially bigger margin than President Trump won Michigan in 2016," he said.
And when it comes to perhaps the pivotal state of the entire election, Biden said, "I feel very good about Pennsylvania."
Trump leads in the Keystone State with 84 percent of precincts reporting. But Biden said the vast majority of remaining ballots to be counted were mailed in, and that he has been winning some 78 percent of the votes by mail in Pennsylvania.
[AFP]
5) US election: Tension in Detroit as Trump supporters want counting suspended.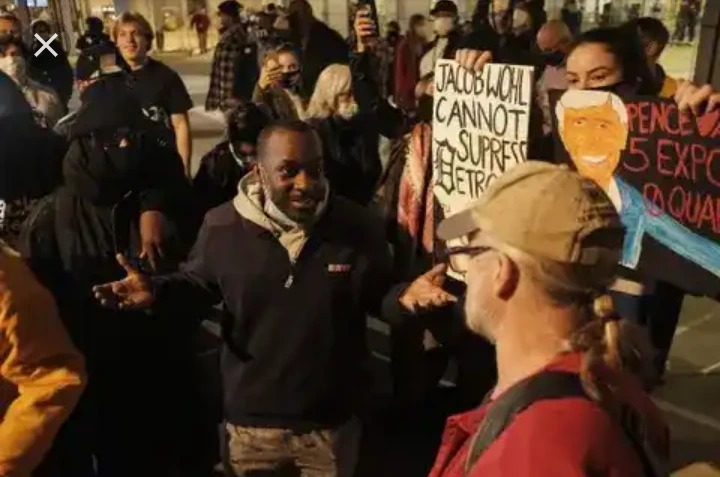 Some Donald Trump supporters protested in Detroit demanding a halt to ballot counting in the key state of Michigan.
This is as thousands of Joe Biden supporters marched Wednesday evening in New York to demand every vote in the tight presidential election be counted.
The Detroit protest outside a ballot processing center were far more tense, according to an AFP photographer and clips on social media.
Cries of "stop the count!" rang out in the city in Michigan—where US media declared Biden the victor—as Trump's campaign announced a lawsuit to try and suspend the vote count, claiming its team was denied proper access to observe vote counting.
Social media clips showed protestors with fists raised prevented from entering the center by police.
With Michigan's 16 electoral votes, Biden now has a total of 264—six shy of the magic number of 270 needed to win the US presidency, according to US network projections.
New York demonstrators were peaceful and spanned generations, with marchers heading from Fifth Avenue towards Washington Square Park in the heart of Manhattan's Greenwich Village.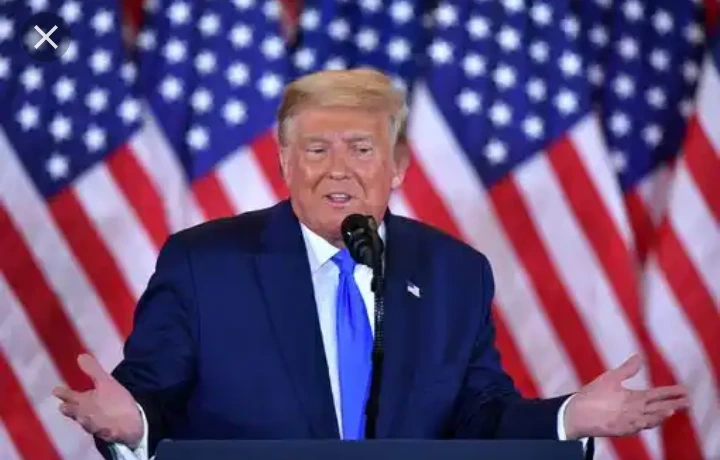 In New York's Democratic stronghold demonstrators were hopeful but wary of calling it for their candidate Biden just yet.
"We need to count every vote in this election," said Sarah Boyagian, part of the Protect The Results Coalition behind the demonstration organized under tight police supervision.
"Donald Trump has claimed the election before every vote is counted and we are sending the message that that is not acceptable," the 29-year-old told AFP.
SOURCES: VANGUARD NEWS, PUNCHNG, AFP, AND TWITTER.