Liver
I welcome you to my page, in this article I shall be educating you about what the colour of Your urine signify whenever it's Changes colour to either dark brown or orange colour.
There are many physiological indices that can tell you if your internal system is working optimally (well), or if there is something wrong with it, and if you would need a quick medical check up.
Your urine is a very important indicator of the state of your health. The color of your urine can tell if you already have a serious health problem, or you are developing one. So please take this information very seriously.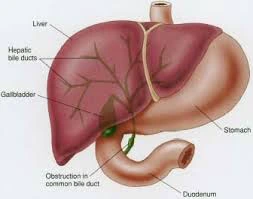 The liver is an organ about the size of a football. It sits just under your rib cage on the right side of your abdomen. The liver is essential for digesting food and ridding your body of toxic substances.Liver disease can be inherited (genetic).
Function Of The Liver At Urine
When the liver has broken down harmful substances, its by-products are excreted into the bile or blood. Bile by-products enter the intestine and leave the body in the form of feces. Blood by-products are filtered out by the kidneys, and leave the body in the form of urine.

IF You Notice These 2 Colours In Your Urine, kindly Pay Attention To Your Liver
DARK BROWN COLOUR
For example, dark brown urine may indicate liver disease due to the presence of bile in the urine. Moreover, Bloody or reddish-colored, urine, is an indication of other potential problems, including direct injury to the kidneys. If you have these symptoms, it's important to see a doctor.
Moreover, Hepatitis refers to inflammation of the liver, usually from a viral infection. This can cause urine to become darker and appear brown. Antiviral medications are the primary treatment for some types of viral hepatitis.
Without proper treatment, hepatitis can cause scarring and permanent damage to the liver. This is cirrhosis, a serious condition without a known cure. It can also cause dark or brown urine.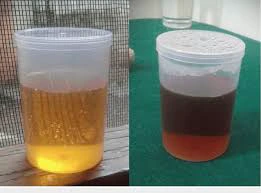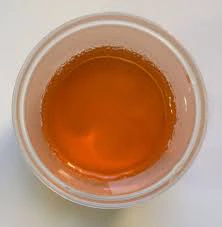 ORANGE COLOUR IN YOUR URINE
In some cases, orange urine can indicate a problem with your liver or bile duct, especially if you also have light-colored stools. Dehydration, which can concentrate your urine and make it much deeper in color, can also make your urine appear orange.
Liver disease (includes any type of liver problem, such as hepatitis, cirrhosis and as well as liver failure) can lead to orange colour urine.
Though, there are many things that can causes the urine to change it's colour but Please take note of These two things very well.

See When You should see a doctor
Make an appointment with your doctor if you have any persistent signs or symptoms that worry you. Seek immediate medical attention if you have notice These signs in Your urine.
NOTE: All images used aboved are for illustrative purposes!