It was an indication of things to come, and maybe not quite what European Cup founder Gabriel Hanot had envisioned.
In the build-up to the competition's very first final, in 1955-56, the Stade Reims players had noticed that their star midfielder Raymond Kopa was unusually subdued. That was because he was in a strange situation, in this new event. Kopa had agreed to join final opponents Real Madrid once the season ended. It didn't affect his performance, since he drove Reims to an early 2-0 lead, but still wasn't enough. Madrid had too much. Reims lost the game, then lost their best player.
Kopa played against them with Madrid three years later, winning 2-0. And that – two finals in four seasons – was about as good as it got for both Reims and French football in the European Cup and Champions League.
The country that founded the competition has never quite found its feet in it. Even France's sole victory, from the controversial Bernard Tapie's Olympique Marseille in 1993, has always carried an asterisk due to the club getting relegated and stripped of the domestic title for trying to fix a match against Valenciennes just days before that Champions League final. Uefa really should have stripped them of that trophy, too.
Part of the issue has really been that has very rarely been even one of the top two or three leagues. That has a lot of knock-on effects, particularly as regards to keeping good players and teams together. Kopa was the first of a long line to play his best years outside the country, from Michel Platini to Marcel Desailly to Zinedine Zidane.
The opening years of the European Cup were actually a rare period when the French league was one of the continent's best.
The competition was famously devised when Hanot – a former footballer and manager and by then a journalist for L'Equipe – became irritated reading a Daily Mail article proclaiming Wolves the greatest team in the world after beating Honved in a tour game. Uefa came around to his knockout idea, largely due to the backing of Madrid's Santiago Bernabeu.
✕
French clubs had been successful in smaller forerunners to the European Cup, like the Mitropa Cup, and for about two decades had attracted a lot of global talent to the league. That allowed celebrated manager Albert Batteux to keep together a core of the country's 1958 World Cup semi-finalists at Reims, including top scorer Just Fontaine, and twice go so far in the competition.
It was just around that point that France suffered one of those periodic declines in European football. Between 1960 and 1975, they only had one quarter-finalist. That was again Reims.Top ArticlesREAD MORESKIP AD
FRENCH SEMI-FINAL APPEARANCES
Monaco – 1994, 1998, 2004, 2017
Marseille – 1990, 1991, 1993
Reims – 1956, 1959
PSG – 1995, 2020
Lyon – 2010, 2020
Bordeaux – 1985
Nantes – 1996
This is another indication of a problem in the European Cup for France, but something that has probably been good for the vitality of its league. No French club had previously been able to grow to the kind of size where they could have long runs in different eras. France has never previously had a Juventus, or a Real Madrid, or even a Manchester United or Liverpool.
Saint Etienne remain their most successful ever domestic side, with a mere 10 French titles. All of them were won between 1956 and 1981, and eight of them between 1963 and 1976. That spell should have seen a brilliant side become France's first European champions, but pure bad luck beat them in the 1976 final as much as Bayern Munich. It became known as "the final of the square posts", with the way the ball rebounded back from two shots denying Saint Etienne. They never again reached the same level, which has been the story for many clubs.
Consider the gaps in years between French teams' few last-four appearances. PSG and Monaco are the only clubs to have reached semi-finals more than 10 years apart.
As fervent as French football can be, it's difficult not to put some of this down to the country's curious relationship with the sport. The population's love for it has never been as widespread or intense as any of the four other major leagues.
The spread of Silvio Berlusconi's broadcast model in the late 1980s did foster the growth of clubs like Monaco under Arsene Wenger, PSG and – above all – Marseille. Marseille might even have been Europe's first "super club" such was the immense strength in depth of their squad. They were almost a who's who of European stars between 1990 and 1993, with signings from Papin to Alen Boksic to Rudi Voller.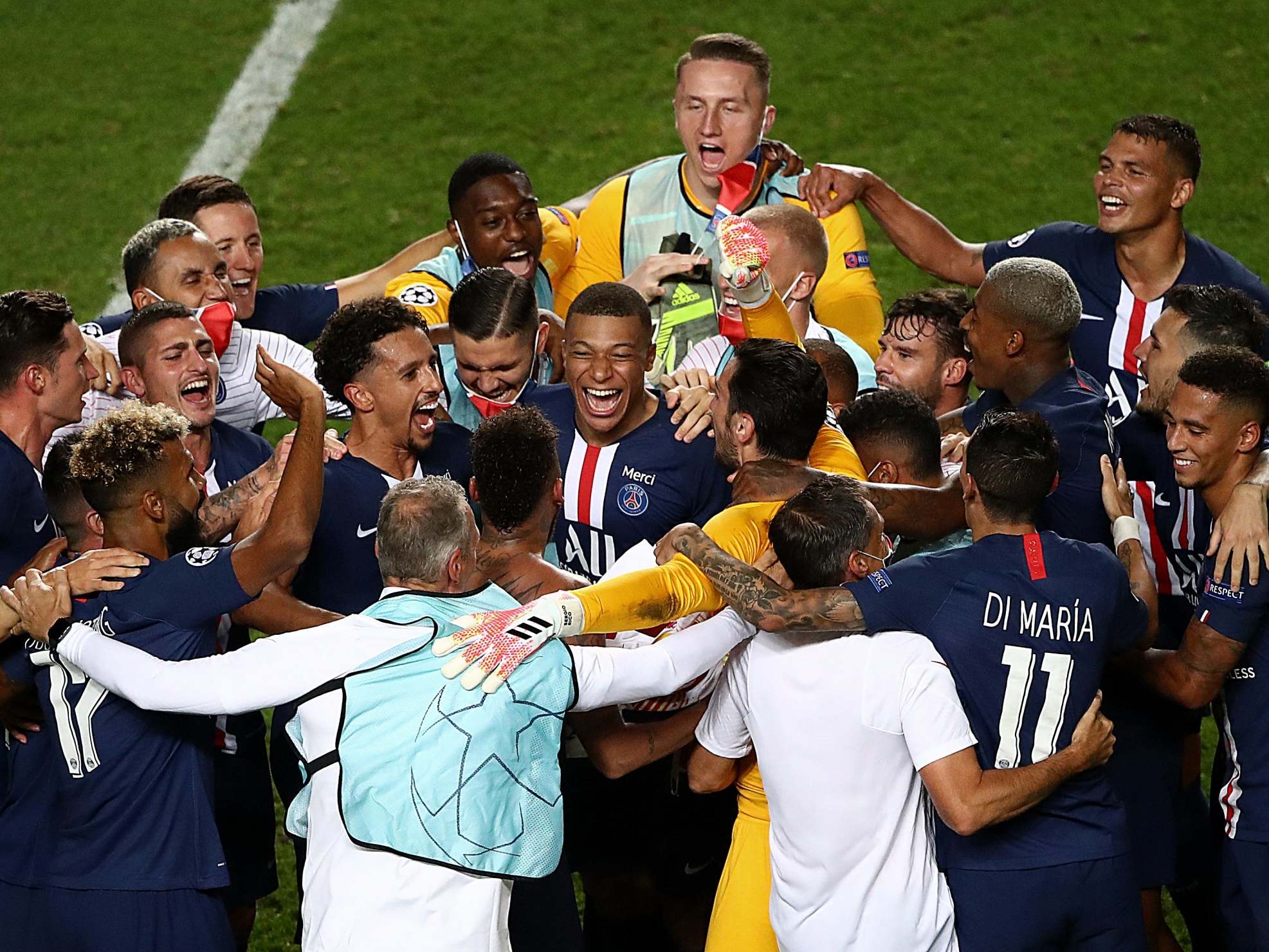 They were also nearly-men in Europe before 1993. Many lament the dismal nature of the 1991 final defeat to Red Star Belgrade on penalties, but the context is often overlooked. War had already broken out in the former Yugoslavia by the time of that game in Bari, and the atmosphere was chaotic and tense. There have been persistent rumours that Belgrade's players rejected approaches to throw the game.
Tapie finally got the European Cup in 1993, but joy was soon overcome by disgrace.
Both Monaco and PSG themselves went close in the next two seasons, but that was the end of an era for French football. Wider shifts in the game, from Bosman to the development of the Berlusconi model, meant bigger TV markets produced more powerful leagues, England and Spain soon overtaking France again.
It wasn't long until Ligue 1 primarily became an exporter of the major talent it produced, the biggest feeder league of all. Selling high was one of Lyon's guiding principles in their decade of dominance. Monaco reached the final in 2004 thanks to an outlier of a season, where the major clubs fell and FC Porto won it.
This also points to the grand irony of PSG reaching the final now. They have reached the super-club size required thanks to a takeover by Qatar, rather than anything really to do with French football. They are now the ones buying the league's best players, like Kylian Mbappe.
It's just, if they win it, it would be as much Qatar's victory as France's.